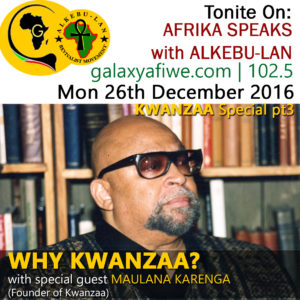 LISTEN LIVE!
HAVE YOUR SAY: 02071930174
HABARI GANI – UMOJA!
TENDAI MWARI Family, Kwanzaa is officially here and it's 50 years old.
As you're listening to this recording, the entire Alkebu-Lan family will be celebrating at the Kwanzaa Network UK event taking place at the Round Chapel in east London, as well as gearing up for our own celebration on Nia (Fri) 30th December 2016, from 2pm-9pm at the Waterlily Banqueting Suite, 69-89 Mile End Rd, London E1 4TT (http://www.alkebulan.org/kwanzaa/).
So while we are there we have a treat for those tuning in tonight – an exclusive interview with the creator of Kwanzaa, Dr Maulana Karenga, conducted by ShakaRa and Afrika Speaks producer, Bro. Olatunji Heru specifically for this show.
In a wide ranging interview. Dr Karenga affirmed the historical roots of Kwanzaa, from the ancient continental antecedents to its specific creation in the heat of the Black Freedom Movement of the 1960s. Dr Karenga explains why it was necessary to create Kwanzaa and shares his perspective on why it has been so enduring and tackles its detractors head on.
So tonight we ask the question:
Why Kwanzaa?
1. What is Kwanzaa?
2. Who created Kwanzaa and Why?
3. Which specific Afrikan traditions is Kwanzaa borne out of?
4. What is Cultural Nationalism and how does it relate to Kwanzaa?
Our very special guest:
Dr Maulana Karenga: Karenga is professor and chair of the Department of Africana Studies at California State University—Long Beach. He is the creator of the pan-African cultural holiday Kwanzaa and the Nguzo Saba (The Seven Principles) and author of the authoritative text titled Kwanzaa: A Celebration of Family, Community and Culture as well as his new book on The Message and Meaning of Kwanzaa: Bringing Good Into the World.
Dr Karenga is an activist-scholar, he is chair of the organization Us and the National Association of Kawaida Organizations; and Executive director of the African American Cultural Center and the Kawaida Institute of Pan-African Studies; and also co-chair of the Black Community, Clergy and Labor Alliance, BCCLA. He is also the author of numerous scholarly articles and books including: Essays on Struggle: Position and Analysis; Kawaida and Questions of Life and Struggle; Maat, The Moral Ideal in Ancient Egypt: A Study in Classical African Ethics; Introduction to Black Studies (4th Edition); Odu Ifa: The Ethical Teachings and Dr Karenga is currently writing a book on the social and ethical philosophy of Malcolm X titled The Liberation Ethics of Malcolm X: Critical Consciousness, Moral Grounding and Transformative Struggle.
Dr Karenga is the recipient of numerous awards for scholarship, leadership and service including the Paul Robeson-Zora Neale Hurston Award for Scholarly Work Significantly Contributive to the Understanding, Development and Appreciation of African World Culture and The C.L.R. James Award for Outstanding Publication of Scholarly Works that Advance the Discipline of Africana and Black Studies, both from the National Council for Black Studies. He is also the subject of the book by Dr. Molefi Asante titled: Maulana Karenga: An Intellectual Portrait.
---
Hear weekly discussions and lively debate on all issues affecting the Afrikan community, at home and abroad. We talk it straight and make it plain!
ASwA Hosted by Sis Kai Ouagadou-Mbandaka and Bro ShakaRa
CLICK HERE to view latest AFRIKA SPEAKS show details. Leave a comment and contribute to the discussion.
Afrika Speaks with Alkebu-Lan
Galaxy Radio | 102.5fm | http://www.galaxyafiwe.com (To listen live)
HAVE YOUR SAY:  02071930174
MONDAY 8pm-10pm
International Listeners: 
4-6 pm Eastern Caribbean Time
12-2 pm Pacific Standard Time
1-3 pm Mountain Standard Time
2-4 pm Central Standard Time
3-4 pm Eastern Standard Time